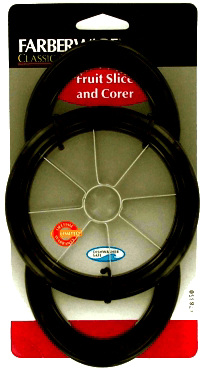 Name of Product: Farberware Classic Series Fruit Slicers and Corers
Units: About 207,000
Manufacturer: Lifetime Brands Inc., of Westbury, N.Y.
Hazard: The metal blade can separate from the plastic handle during use, resulting in cuts to consumer's hands and fingers.
Incidents/Injuries: Lifetime Brands has received 34 reports of the blade separating from the handle, including nine reports of cuts to consumers' hands and fingers.
Description: The recalled product is the Farberware(r) Classic Series(tm) Fruit Slicer and Corer with model number 78350. The model number is written on the packaging. The fruit slicer/corer is an eight-section round metal blade encircled in hard black plastic with two handles. "FARBERWARE" is printed on the top of the handle.
Sold at: Grocery, hardware, discount and other retail stores nationwide from January1999 through October 2006 for about $4.
Manufactured in: China
Remedy: Consumers should stop using these fruit slicer/corers immediately and return them to Lifetime Brands Inc. for a refund.
Customer Contact: For additional information, contact Lifetime Brands Inc. at toll-free (888) 568-1533 between 8 a.m. and 5 p.m. ET Monday through Friday, or write an email to fruitslicer@lifetimebrands.com