Here's a blast from the not too distant past – FridgeHenge. Adam Horowitz created the public art work in Santa Fe, New Mexico, composed of over 100 used refrigerators. In the Spring of 2007, after it had been around for about twelve years, it had become an eyesore and was torn down.
When it was first constructed, it was a statement about American consumerism, but it became a tourist destination and drew visitors from around the world. Time and strong wind took their toll on the sculpture which was dismantled when it became a public health and safety hazard.
It started out as a statement about American consumerism and waste, and then it sort of became waste itself," City spokeswoman Laura Banish said.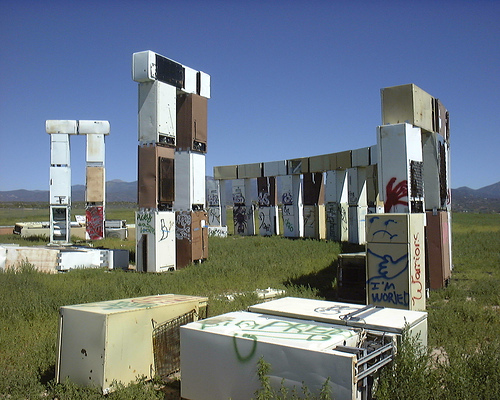 Exactly, Horowitz said.
"I always had debated with the bureaucrats who would ask, 'Is it art or is it garbage?' and I'd say, 'Yes, that's the point,"' he said.